Paint on Pixel (series)

In this series of works on canvas, physical and digital collide to explore the relationship between meaning and context. This painting practice mixes different digital and analogue elements to achieve a hybrid result that lives in a middle ground between the virtual and real dimensions (mixed reality). The acrylic paint deposited on the canvas is confronted with different underlying materials and patterns generating a dialogue that breaks a precise pattern of the monothematic definition of painting to embrace new formal and heterogeneous solutions.

Each work is constructed as a "desktop" in which fragments of other references are mixed, generating comparisons and juxtapositions, revising a gestural approach.
The artist works with different materials and techniques, both digital and physical, hybridising them in a continuous and indissoluble solution.
A painting, for Skygolpe, is therefore a complex system consisting of a set of objects reproduced in different ways under different technical conditions. As such, these objects have characteristic shapes, sizes, positions and surface morphologies. In addition, there are many factors that influence their digital appearance on a physical surface. The works are scanned, printed and reproduced before being revisited until they embody a result mediated by randomness.

The contours of Skygolpe's characteristic silhouette sometimes appear erased and flaky, they lose their shape in favour of an abstract composition that gradually integrates and takes its place at the centre of the work, becoming the true subject.
Many of the textures used in his paintings are designed entirely digitally, while others are captured from physical colour tests performed in the studio. Skygolpe is fascinated by the possibilities of altering and transforming reality and the viewer's perception in these works, which are often attempts at partial compositions, sometimes finished and sometimes yet to be finished.
The canvases thus comprise a process that generates "errors" and unexpected results that combine to form the composition of the final painting.

The genesis painting of this collection was auctioned at Cristie's NY, during Trespassing III 8.21 July, 2022 curated by Ronnie K. Pirovino. The full collection was presenting through a solo solo exhibition designed to open in multiple locations in the US and Switzerland.

SKYGOLPE PX5245E, Paint On Pixel 100x70 cm Acrylic and mixed media on canvas, 2022




SKYGOLPE PX77445E, Paint On Pixel 100x70 cm Acrylic and mixed media on canvas, 2022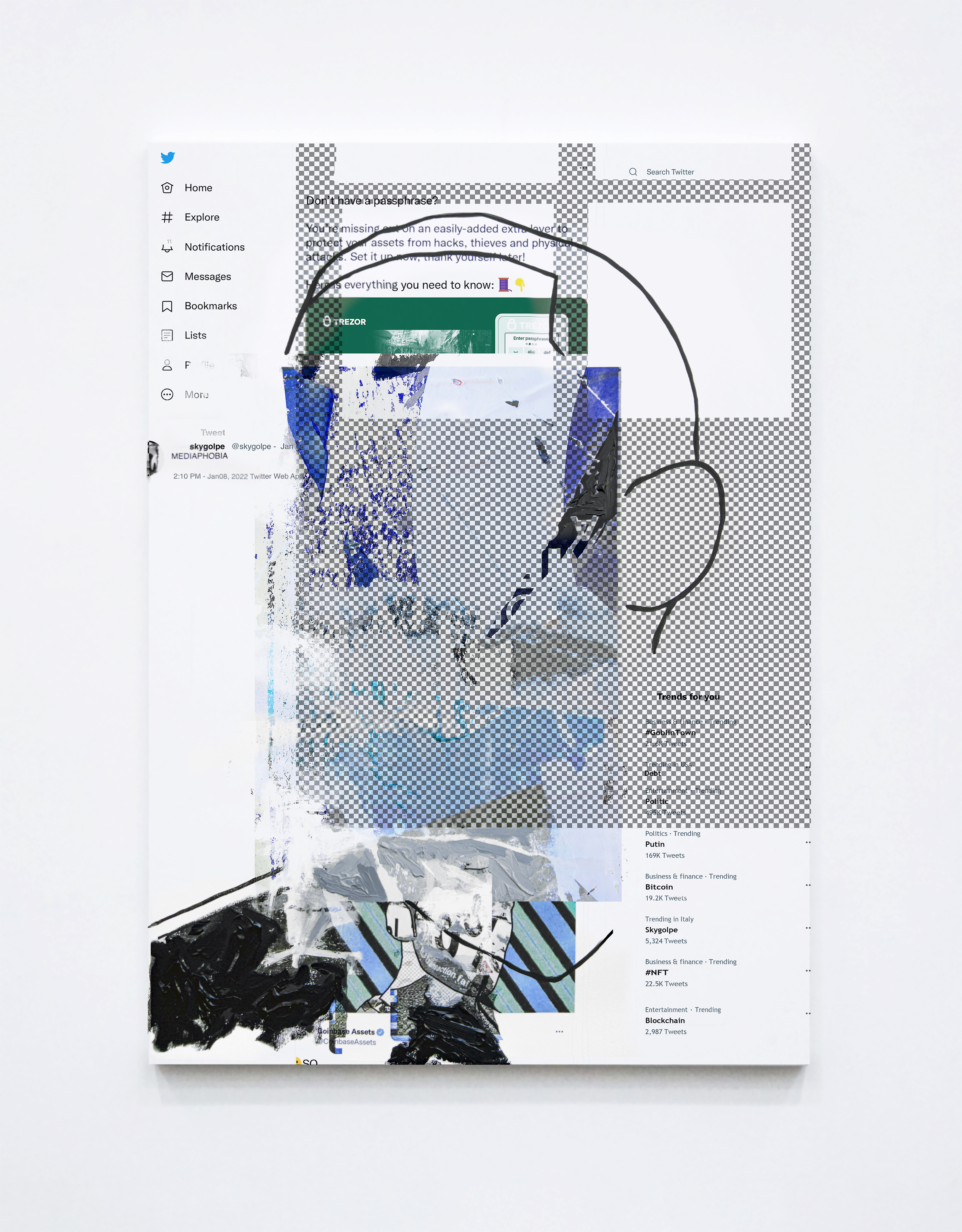 SKYGOLPE PX7661E, Paint On Pixel 100x70 cm Acrylic and mixed media on canvas, 2022





SKYGOLPE PX7941E, Paint On Pixel 100x70 cm Acrylic and mixed media on canvas, 2022





SKYGOLPE PX8863B, Paint On Pixel 100x70 cm Acrylic and mixed media on canvas, 2022






SKYGOLPE PX7729E, Paint On Pixel 140x100 cm Acrylic and mixed media on canvas, 2022




SKYGOLPE PX7639E, Paint On Pixel 100x70 cm Acrylic and mixed media on canvas, 2022





SKYGOLPE PX7115M, Paint On Pixel 70x50 cm Acrylic and mixed media on canvas, 2022





SKYGOLPE PX6685M, Paint On Pixel 70x50 cm Acrylic and mixed media on canvas, 2022





SKYGOLPE PX7135M, Paint On Pixel 70x50 cm Acrylic and mixed media on canvas, 2022